GOEGRAPHIC INFORMATION SYSTEMS (GIS) LABORATORY
BACKGROUND
Goegraphic Information Systems (GIS) Laboratory was established in 1994 by the Government of the United Republic of Tanzania as part of its Forest Resources Management Project (FRMP). This Information centre is managed by IRA within the University of Dar es Salaam premises. GIS Laboratory in IRA strength matters related to natural resource management .
The GIS laboratory offers various services to University students, staff and various communities. It has accumulated and acted as a repository for data which are incorporating into databases for use with those who need it.
Objectives of GIS LABORATORY

To collect and organize spatial data on Natural Resources and Environment.

To develop a computerized Information System that store, manipulate and maintain such data.

To provide information to policy makers.

To identify data users and establish their requirements.

To increase awareness of other organizations collecting and disseminating natural resources and environment data in Tanzania.

To facilitate and encourage the exchange of ideas among resource information agencies at National and International levels.
Categories of Data at GIS LABORATORY
A.Spatial data covering the entire country
Land Use / Cover types data based on Landsat tm of 1994/95 and 2010

Satellite Images – Landsat TM, ETM and Landsat 8 from 1980s to 2014

Aerial photo collection from 1950s to 1970s covering about 60% of the country.

Scanned topographic maps at a scale of 1:50,000 covering the whole country

Mean Annual Rainfall Map of Tanzania

Agro-econological zones of Tanzania

Tanzania Geology data

Tanzania Administrative boundaries

Soils Map of Tanzania

Drainage network

Protected Areas (Forest, Games and National Parks).
B.Non spatial data
Population data based on the 1988, 2002 and 2012 census

Various documents (books, research reports, etc) on natural resources and environment.
Other services offered by GIS LABORATORY

Sale of Land Use / Land Cover Maps (Digital and hard copies).

Digital Cartography and data analysis

Database design and Management.

Data processing and analysis.

Remotely sensed image processing , interpretation and analysis

Maps production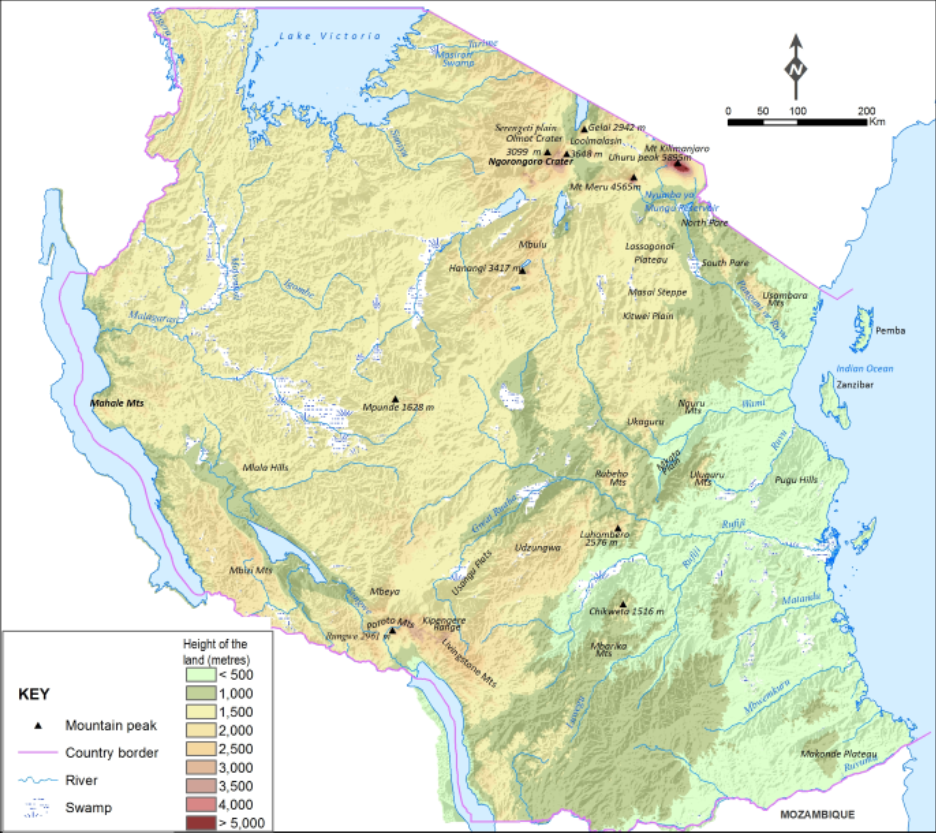 Map production
SHORT COURSES OFFERED AT IRA GIS LABORATORY
GIS Laboratory offers short courses and tailor made courses in Geographic Information Systems (GIS) and Remote Sensing for

those engaged in GIS development and implementation in both the public and private sectors.

Target

groups are

Professionals: surveyors, engineers, planners, geographers, agriculturists, Resource Management personnel and

all others who are interested in the use, development, and management of GIS.
IRA GIS LABORATORY CAPACITY
IRA GIS Laboratory has 4 staff, 2 with Master's degree in Geoinformatics, Computer science and Natural Resources Management, 1 with Bachelor in computer science and 1 with diploma in cartography.

The laboratory is equipped with 10 Workstation computers, 7 high capacity laptops, 5 A0 plotters and 1 A0 photogrammetric scanner
| | | |
| --- | --- | --- |
| HP DeskjetA0 Plotter | Contex IQ 4400 A0 scanner | Dell Precission T5600 computer |
SERVICES OFFERED
GIS Laboratory offers various services :
Sale of Land Use/Land Cover data (both hard copies and digital) based on Landsat Images of 1995/96 and 2010.

Digital Cartography and data analysis.

Database design and Management.

Data processing and analysis

Printing A0,A1,A2,A3,A4 Size

Large format scanning A0, A1, A2, A3, A4
SOME RECENT PROJECTS UNDERTAKEN AT GIS LABORATORY
Environmental Assessments of Irrigation and Rural Roads Projects in Tanzania and Zanzibar

Preparation of maps for Tanzania Secondary School Atlas

Status of Land Degradation in Tanzania

Climate Change Impacts, Adaptation and Mitigation' (

CCIAM

)

Enhancing the measuring, reporting and verification of

forests in Tanzania through the

application of advanced remote sensing techniques

Mapping of the Lava and ashes eruption at Oldonyo Lengai mountain

Analysis of Land Use and Land Cover Changes in

Rungwe District using remote

sensing techniques, French

CORUS

program

Land Cover mapping in the Kagera Basin covering

4 countries i.e.,

Tanzania, Uganda, Burundi and Rwanda,

Integrated Management Plan For The Central Slave And Ivory Trade Caravan Route And Related Centers

Mapping of Catchment Forest Reserves in Tanga,

Kilimanjaro

and Morogoro.

Assessment of Viability of Game Controlled Area category as Wildlife Conservation Areas.